SOLD: Stunning Victorian in Downtown Lake Geneva
Own a Piece of Lake Geneva History
5 Bedrooms, 4 Baths, 5,387 sq. ft. Victorian For Sale
Sale Price: $1,272,500
I'm excited to tell you about a new listing I have in downtown Lake Geneva. Every once in a while, a home comes along that moves me, and this is the case with 1103 Geneva Street. I get excited when a home tells a story, kind of like, if "if these walls could talk" but in this case, if only this house could talk. 
This stunning Victorian stands proudly on the corner of Geneva Street and Warren, in the historic maple park neighborhood, in downtown Lake Geneva. It's just a block to the lakefront, the beach, and the infamous Geneva Lakeshore Walking Path that stretches 21 miles around the lake. It's also just a short stroll to the thriving downtown district where you will find a plethora of unique shops, fantastic restaurants and entertainment including breweries, wineries, and more. This house puts you in the middle of all that Lake Geneva has to offer.
1103 Geneva Street is a late Victorian, Italianate style home that was built in 1872. At this time, the Civil war had ended just 11 years earlier and the Chicago Fire was still probably smoldering, since it was just a year earlier. The home was built by a banker in town, named William Davis and it was just the 7th house built around Maple Park.
This area was originally called Central Park and it was created in 1837 with the concept brought to this area from the Yankee settlers from the East. They envisioned a public square where neighbors could gather, and this land continues to be preserved for that purpose. After the war and fire, wealthy Chicagoans began flocking to the area which resulted in larger and more elaborate homes. 1103 Geneva Street remained pretty much in its original size until around 2007 when the home was expanded.
I've seen many additions that have changed the look of the home and sometimes the area, but in the case of 1103 Geneva Street, Architect Ken Etten of Lake Geneva blended the home to perfection. The wide eaves continue along the new portion of the house and are decorated with frieze and paired brackets to make the home cohesive. It increased the size of the home to over 5,300 square feet, making it the largest Victorian in the area and provided the owners with all the modern amenities you'd come to expect in a luxury home.
Inside the home, the owners created a whimsical take on the Victorian era. They tastefully blended old and new to provide a comfortable an eclectic vibe. Don't get me wrong, the home still is Victorian inside and out and they have maintained the historic charm by keeping so much of the original finishes. From the two grand staircases and 11-foot ceilings to the and ornate woodwork, you feel the history whe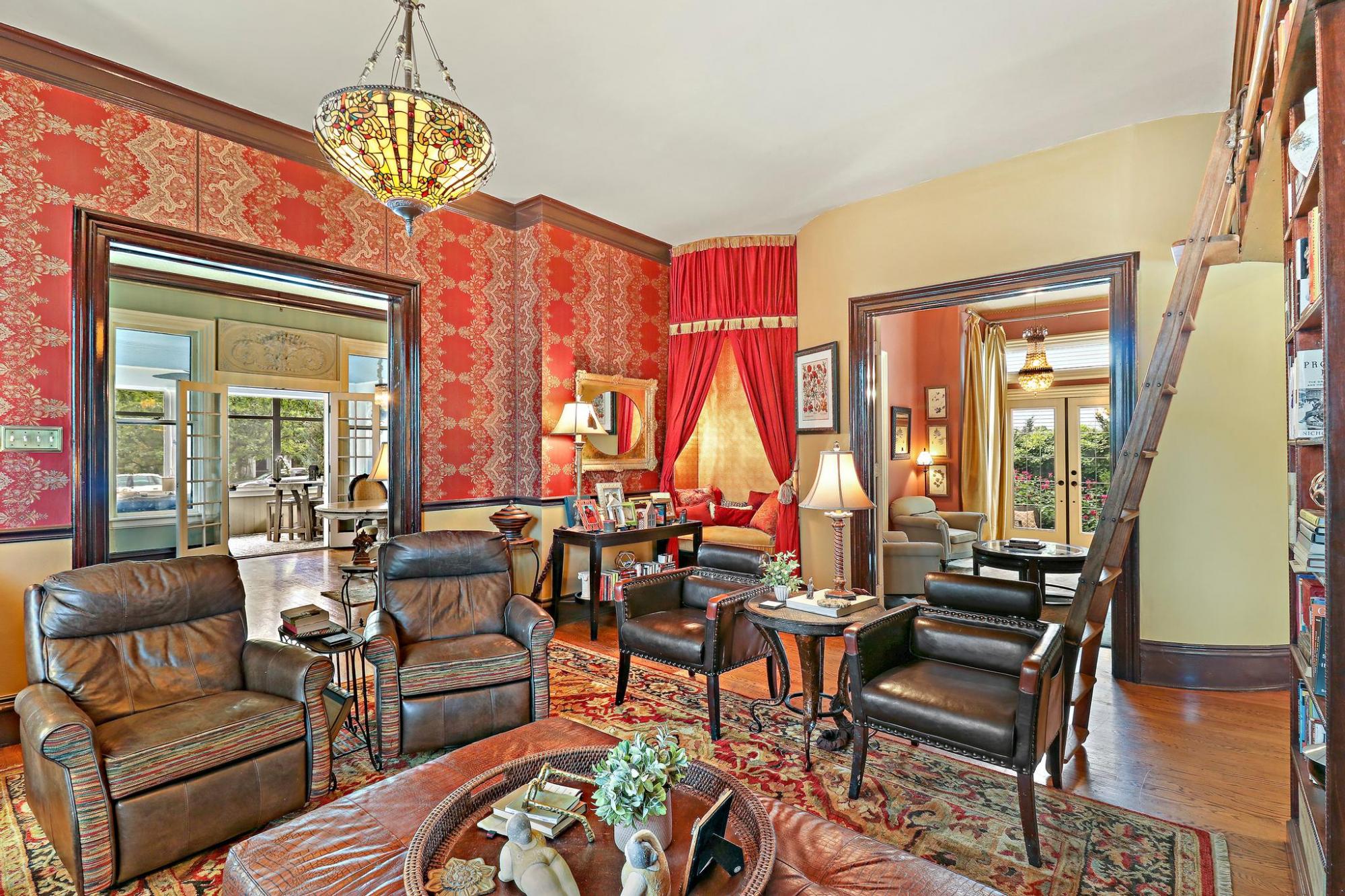 n you walk in the home. 
The first floor includes a dining room with a wood burning fireplace, a three-season sunroom with lake views, a gorgeous butler's pantry, and a parlor that leads to a private garden patio with a hot tub. The living room is spectacular with a wall of built-ins, a gas fireplace and a decadent Victorian book nook, that makes you want to climb in and chill.  
The oversized kitchen is a gourmet chef's dream with a Viking refrigerator and freezer, a Blue Star Commercial Grade Oven/Range and an attached Salamander Broiler, a must-have appliance for foodies. There's also a mud room with wooden lockers, a full bathroom and access to both a side deck and paved patio overlooking the yard.
On the second floor you will find five bedrooms, three full baths, a private balcony, a large loft, and a laundry room. The master suite has a free-standing soaking tub, a steam shower and radiant heated floors.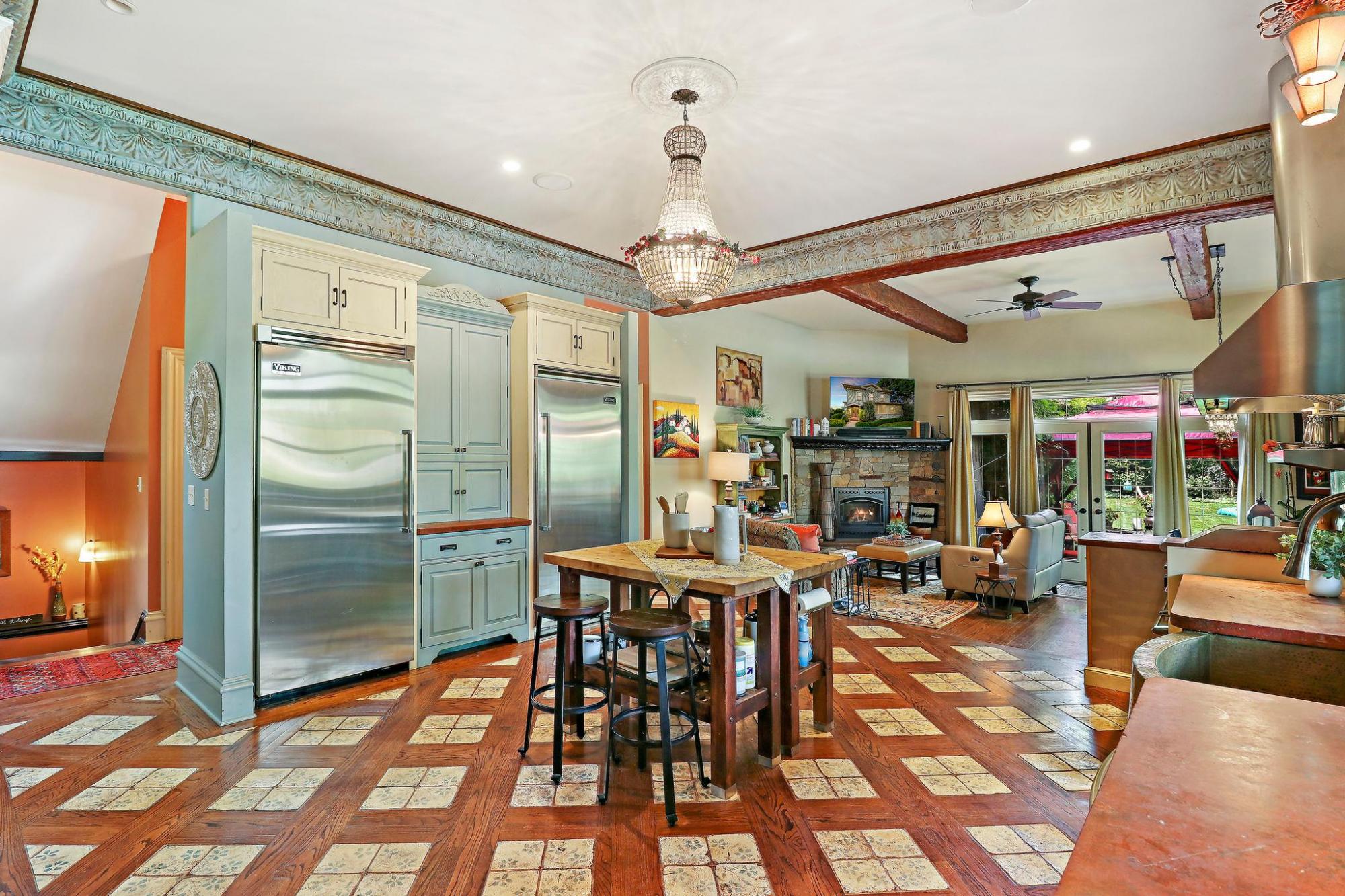 In the lower level, you'll find a rec room with a fireplace, a built-in Murphy bed for extra guests and a game room. The garage is heated and can fit two vehicles side by side with room for a third vehicle in tandem. There is also an electric vehicle charging station.
During the course of the addition, all of the plumbing, electric, and HVAC were upgraded and most of the roof was replaced. Extensive outdoor lighting was added, making the outdoors come to life after sunset.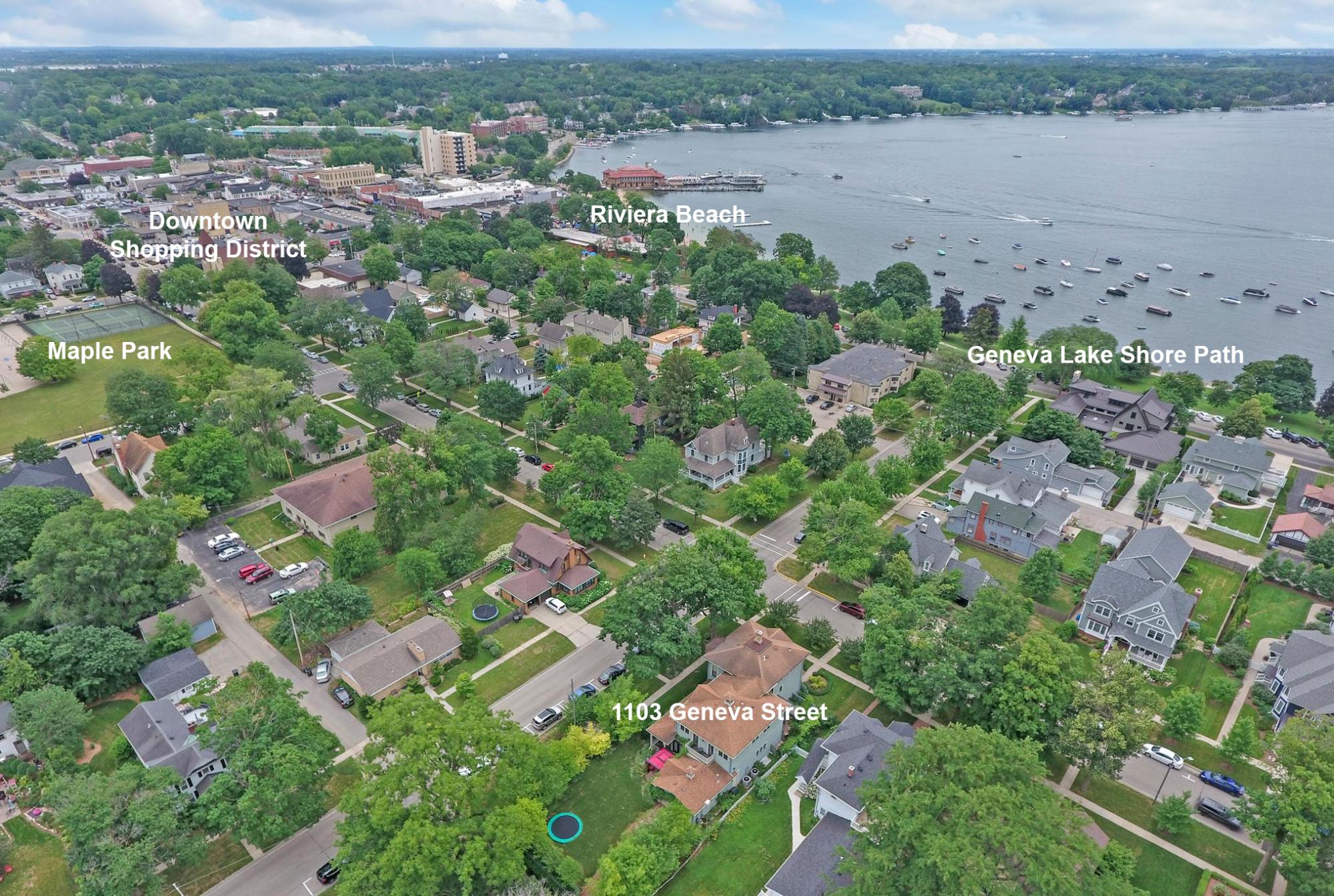 The yard is flat and lush giving you plenty of space for yard games, and it's a gardener's paradise with gardens and fruit trees. Kids will love it instantly when they see the inground trampoline in the backyard as well!
For those looking for get on the water with a boat, there are options available for immediate access. There are several Boat Clubs on the lake, Valet Service with In/Out services and waiting lists for buoys and slips. Please call me if you'd like more details.
This home is really one of a kind and a listing that I'm proud to be associated with. It's one of those homes that I look forward to showing since it gives me another opportunity to roam the halls and envision what life was like back then. To make an appointment to see the home or for more details, including and a complete photo gallery, visit www.1103GenevaStreet.com.