In the News: Scott Corbin
Local Musician Creates New Kind of Music
By Holly Murphy, Age 12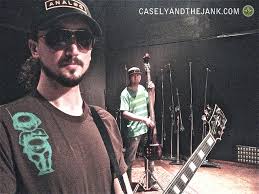 A local musician has made a big impact in music industry.  From his humble beginning in Lake Geneva to his International success, this soft spoken musician has stayed focused on his goals.
Scott Corbin was raised in Lake Geneva and has received international acclaim in the music industry. Music has always been a big part of Scott Corbin's life due in part to his father working for Gibson Guitars as a salesperson. With that sort of influence, he was destined for greatness from the very beginning. 
Corbin began his music career at the age of 9 when he first picked up a guitar.  He was a student at Eastview Elementary School in Lake Geneva and was drawn to heavy metal music with his favorite bands being Led Zeppelin and Ozzy Osbourne. He attended Woods School in Lake Geneva for 8th grade and played in their talent show.  He loved playing in front of a live audience and continued to work hard at his music.
His parents moved to Fontana when he was 14 and he went to Big Foot High School. In his freshmen year, Corbin made his mark in athletics by making the Varsity Soccer Team, which is highly unusual for a freshmen. He was also in the choir and the jazz band. Corbin also started a band with a few friends and began rehearsing for the school's Talent Show.
On the night of the event, nerves got the best of Corbin's friends, and they unexpectedly dropped out moments before they were supposed to go on stage. Corbin decided to go onstage alone and blew the crowd away when he played "Far Beyond the Sun," which is a rock song packed with intense guitar solos.  It was so difficult, only an expert guitarist could play it. He received a standing ovation from the crowd and at that point, realized he should never give up. 
After his freshmen year, he and his family moved to Florida where he finished high school in 2002. He then went to college at The University of Central Florida, earning a degree in Psychology with a Minor in Economics. In his spare time as a student, he played his guitar locally on the campus and was also hired as a studio musician for Transcontinental Records. He was flown around the country for recording sessions, which is a pretty amazing job for a 19 year old. While performing a live show, Corbin met a musician from Miami named Casely. They had similar interests in music and became friends. They soon formed a band called Casely and the Jank and are now producing a new sub-genre of Pop music called "Jank."  The group has fans in over 24 countries and that number is growing since the release of their EP in January, 2014.  
Their sound has an Urban backbone with a World Music flare, which at times, is reminiscent of Michael Jackson. It has been classified by fans as being "in a league of its own". This new sound was given the label "Jank," which as Corbin describes it, is "visual and cinematic."  Casely and The Jank will be releasing a summer collection entitled "Gentrified" on June 12, 2014.  All their music will be available on iTunes. With his family now living in Chicago and plenty of friends in the area,  Corbin hopes to make a stop in the Lake Geneva area during an upcoming tour.