In the News: New Attractions in the Wisconsin Dells
Wilderness Resort Adds More Fun in 2014
New Attractions and Amenities for Kids and Adults
As you enter to the Wiscons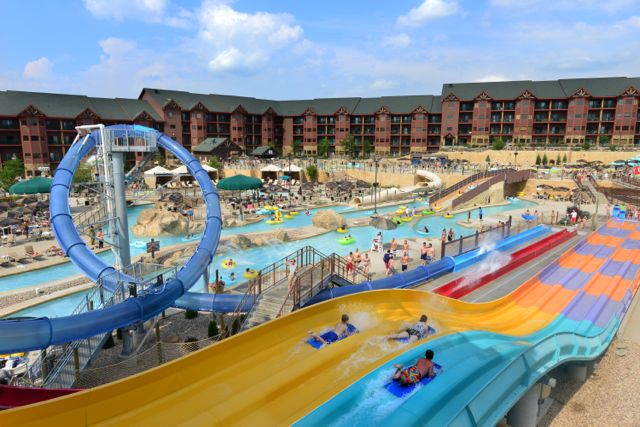 in Dells you quickly understand why it's referred to as The Waterpark Capital of the World.  The larger than life marquees in front of the mega resorts with colorful, twisting waterslides coming in and out of the buildings and towering high above the trees are as jaw dropping as driving along the Las Vegas strip at night. We're fortunate that this kids' paradise is located just two hours from Lake Geneva.  We recently visited the Wilderness Resort in the Wisconsin Dells and were excited to see all the new amenities and attractions they have brought to the resort this year. We have some tips to share that will make your next trip to the Dells better than ever.
The Wilderness Resort is made up of three waterpark resorts: Wilderness Hotel & Golf Resort, Wilderness on the Lake, and Glacier Canyon Lodge. Together, these properties make up America's largest waterpark resort.  You'll find 4 indoor and 4 outdoor waterparks totaling more than 500,000 square feet and all are reserved exclusively for Wilderness Resort guests. 
We stayed at the Wilderness Hotel and found it affordable and well suited for our needs. With four kids, our room offered two queen size beds and a pull-out sleeper sofa, so there was plenty of room for our whole family.  For those families looking for some extra space, we recommend the Glacier Canyon Lodge, which is a condominium hotel, adjacent to the Wilderness Hotel, that offers full kitchens and a separate living room. Having the extra space is appealing for adults who want a place to watch television or work on the computer when the kids are sleeping.
The waterparks at the Wilderness Resort and Glacier Canyons are incredible and will appeal to everyone.  They have everything from baby swings and spray pads for little kids, to thrilling waterslides that are sure to get your adrenaline pumping. The Black Hole and the Hurricane are the most popular waterslides. The lines for these rides can be lengthy at times, so to ensure a short wait, we recommend getting to these rides when the waterpark first opens in the morning. (You could even get in line outside the waterpark 20 minutes early to secure a good place in line.)
The Wild Water Dome is home to America's largest indoor wave pool, the Great Wave, and features a see-through roof that actually allows guests to tan indoor year-round. Because of it's enormous size, you'll always have room to play without a wait and adults can watch the waves from the adult-only swim up bar located right next to the wave pool. While the Wilderness Hotel and Glacier Canyon Lodge are situated in the midst of all the fun and excitement, the Wilderness on the Lake is a few miles down the road and located on Lake Delton.  It offers more of a relaxed and quiet atmosphere but still has access to all the attractions through shuttle service.
In total, there are 58 slides (33 Indoor & 25 Outdoor), 2 Extreme Slides,  2 Thrill Slides, 10 Kiddie Slides, 14 Banana Slides, 3 Raft Slides, 4 Racer Slides, 7 Tube Slides and 16 Body Slides. There are  4 lazy rivers, 2 lazy lakes, 1 wave pool, 5 kiddie pools with play structures, 5 toddler pools, 3 lily pad walks, 9 hot tubs, and 8 activity pools within all of these waterparks! 
In addition to its waterparks, the Wilderness Resort has many other fun attractions for guests to explore. You'll find a two story, sky-ropes course that is situated above The Wild West Arcade. You can make your way across narrow beams and tightropes, while looking down on kids playing two floors below. New this year is a 4,000-square-foot, two-story OK Corral Lazer Tag Arena.  Players can hustle up ramps to the second floor, explore a saloon, fort, jail and covered wagon, while competing for the top score. Or take on the Marshall Training Lazer Maze, where you can test your speed and agility while racing against the time through a maze of lasers. Guests who break a beam have their time penalized. Only those with best times are named, "Marshall".
Guests with a need for speed will want to check out the new indoor, two-story Wilderwoods Go-Kart Trail, that opened in July 2014. The 525-foot long course offers a total adrenaline rush as guests race around crazy turns and ascends up two floors in electric cars. You also find Bumper Boats, 3-D Mini Golf, 3 Mega Arcades, a Play Park, Polka Dot Pots Paint Your own Pottery, WildKids Club, a Championship Golf Club, a 9-Hole Family  Course,  Zip Line Tour, Outdoor Go-Carts, and Horse Drawn Wagon Rides. The excitement never ends!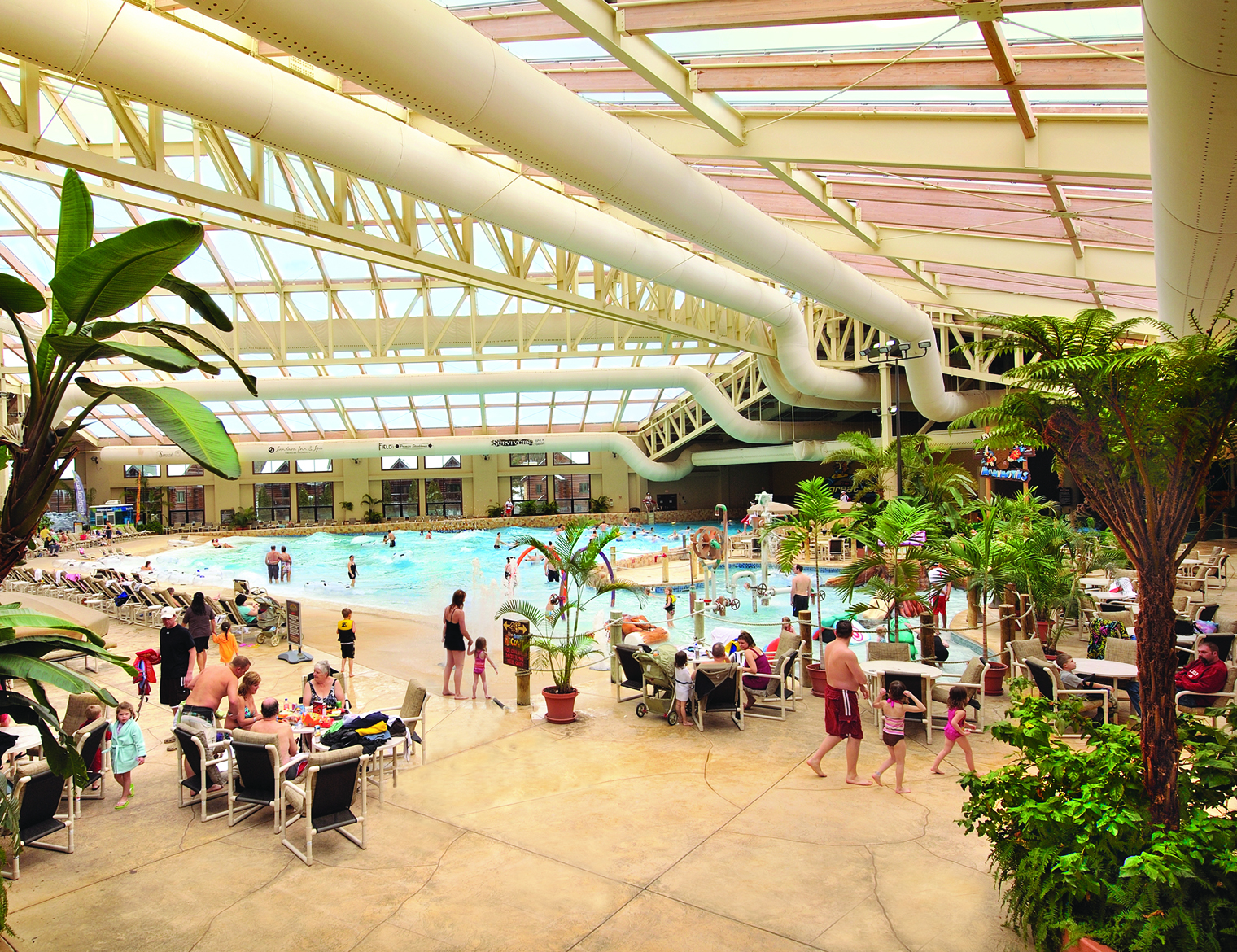 An affordable way to enjoy these attractions is with the purchase of Wild Fun Pass. For $24.95, you can enjoy the Sky-Ropes Course, Mini-Golf, Bumper Boats, Laser Tag, Lazer Maze andIndoor Go-Karts for one flat fee, which is a substantial savings. They are currently offering a special offer for a FREE Fun Pass with the purchase of three passes. 
When it comes to dining, there are a variety of quick service as well as sit down options at the Resort. We especially loved the flexibility of having dinner delivered directly to our table in the waterpark by the new Klondike Pizza Kitchen.  The food was great and surprisingly affordable.  That's what we loved most about the Wilderness. It's an exceptional resort with all the fun and excitement that we could want and we never felt like we were being taken advantage of.  We had a great time, at a reasonable price, and we would highly recommend the Wilderness Resort to everyone. 
For more information about the Wilderness Resort, click here.