In the News: Neal Aspinall
Award-Winning Artist in Lake Geneva
Creates Iconic Retro-Style Americana Prints
If you've been to Lake Geneva, there's a good chance you've seen Neal Aspinall's work. Locally, he's provided the face for festivals and attractions as well as logos for many businesses. 
Aspinall describes his style as Minimalist with an influence of WPA during the Great Depression. A graduate of the Art Institute of Colorado, he was fortunate to study all aspects of advertising design, including photography, graphic design, life drawing, art history, illustration, and typography. This helped mold his vision for the art that he creates today, which blurs the lines between illustration, design, advertising and fine art.
"The inspiration," Aspinall recalls, "comes mainly from pre-60s vintage American advertising, and years of studying the nation's best graphic designers & illustrators, both past and present." His early work was a combination of airbrushing, rapidograph, colored pencil, and acrylic but has evolved into digital work. His style is fresh and fun with a vintage flair.
His work has been described as 'Using images of the past to communicate concepts of the present.' He loves to connect with the viewer and can make a monolithic corporation feel very approachable and Mayberry-esque. Some of Aspinall's clients include Facebook, Coca Cola, Corona, Harley Davidson, the LA Marathon, and Macy's, to name a few. His work has been featured on boxes of Kleenex for Kimberly Clark, in animated television
commercials for Ford and IHOP and on the beer labels and packaging for Kona Brewing Company.  
Aspinall creates logos, posters, icons, illustration, portraits, & private commissions. Some of his favorite pieces are the Yerkes Observatory, 1930 Harley Davidson poster, San Francisco's 49 Mile Scenic Drive book cover, the Pipeline Porter label for Kona Brewing Co, as well as the 2020 American Birkenbeiner, the largest cross country ski race in North America.
His endless list of awards include the American Society of Illustrators Annual, Communication Arts Illustration Annual, Graphis Magazine, Print Regional Design Annual, POPAII Gold Medals (POP industry), numerous ADDY's & induction into the Art Institute of Colorado Hall of Fame.​
The Aspinall family has been rooted in Lake Geneva since the mid 1800's, owning Aspinall Dairy and even having a street bear their name in downtown Lake Geneva. Neal is the son of a draftsman and the youngest of four children, all of whom are artists. He attended Denison Junior High in Lake Geneva and ironically received the "Most untapped artistic ability award" from his teachers.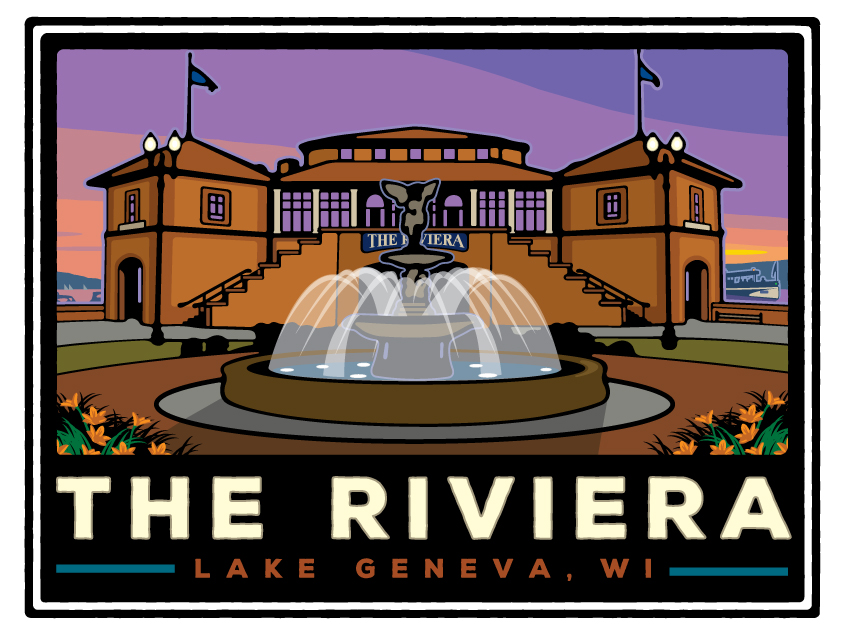 He recalls "When I attended Badger High School, my art teachers were always supportive of my creative expression while the teachers in other subjects enjoyed the intricate covers I created for my book reports." Aspinall jokes that he should have spent more time with the content of the book reports instead of artwork on the cover pages. Aspinall was later inducted into the Badger High School Wall of Success.
Looking to the future, Aspinall hopes to expand his images to other parts of Wisconsin and other hot spots around the country. He also plans to open a local gallery. In the meantime, the work of Neal Aspinall's can be seen at www.nealaspinall.com. Everything from prints and notecards to t-shirts and mugs can be ordered online.
While Lake Geneva is known for our amazing lakes and historic architecture, Neal Aspinall has provided us with visually exciting pieces of art to represent our community and we're proud to call him our own.
CLICK HERE for for more information on Neal Aspinall and for the link to the online store.
For a list of all the fun things happening in the Lake Geneva area, click here.