In The News: Dieter Sturm
Oscar-Winning Snow Maker Hails from Lake Geneva
Makes snow for over 80 movies
By John Murphy
Ever wonder how movie sets on the streets of Los Angeles can suddenly be transformed into the snowy streets of New York? There is one Lake Geneva resident who has cornered the market on summer snow.  His name is Dieter Sturm and he is the owner of both Sturm's Special Effects and All Seasons Extreme in Lake Geneva. Having provided special effects for over 80 motion pictures, including Horse Whisperer, Transformers 3, The new Superman movie, Contagion, Public Enemies, and Fargo, Sturm is known in Hollywood as the "Snow Guy."
"Every special effects company has a specialty, whether it be rain, fog, hydraulics, for example." "We are known for making snow."  Sturm has the fastest snow making truck in the country, which can produce 800 pounds of snow per minute. No wonder he is the go-to person for snow-making in Hollywood. He can also create synthetic snow for longer shoots in warmer climates, where the snow can last up to five hours. 
Dieter Sturm grew up in Milwaukee, was President of his high school ski club, and received a scholarship to the Milwaukee School of Engineering. "I've always been an inventive kid." said Sturm, however, making snow to cover the hot tarmac of a movie set in Los Angeles wasn't always the direction he saw himself headed. 
"I originally thought that being in the entertainment business was the direction my life should go."  So when an opportunity arose at a rock radio station, he left school and took a chance.  Sturm quickly rose up to become the Promotion Director at the station and even had a late night shift as a disc jockey. After a few years, he left the station, when a PR position opened up in 1980 at the Playboy Club in Lake Geneva.
As a kid, Sturm always enjoyed his visits to Lake Geneva and especially enjoyed skiing at the then-Playboy Club. But it was at this time, Sturm planted his roots into Lake Geneva, and it's where he'd continue to live and work for the years to come.
After the Playboy Club was sold in 1983, Sturm began working in Public Relations for Gary Gygax at TSR, a company that created the Dungeons and Dragons game.  During that time, Sturm also had a freelance public relations and special events coordination business and took on small special effects jobs.  He was called to help make a commercial for an emergency TV repair company in Milwaukee, his task… to blow up a TV!  "After I did that," Sturm recalls, " I knew that my calling in life was in special effects."  
In 1986, he was asked to work full time, handling the Special Effects on the set of Planes, Trains and Automobiles, a motion picture with Steve Martin and John Candy. By 1995, and with a handful of movies under his belt, Sturm received an Academy Award for the development of biodegradable snow for the motion picture industry. He was presented his Oscar by Jamie Lee Curtis. 
While winning the academy award was exciting, Sturm recalls one of his favorite moments on a movie set. "It was with my wife, Yvonne, who is also a Special Effects expert, on the set of Fargo."  "If you remember the chipper, my job was to shake it, with the leg sticking out the top, to make it look motorized, while Yvonne created the guts that poured out."
Over the next 20 years, Dieter Sturm made his mark not only in motion pictures, but provided special effects for television commercials, and still photography for catalogs, including Lands End and Target. But what Sturm really longed for was a way to bring snow to the public twelve months out of the year.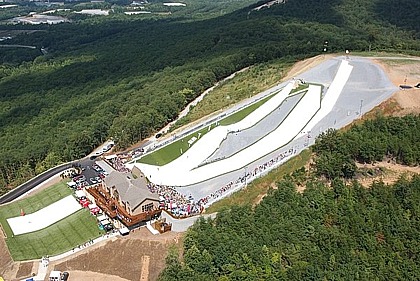 Dieter Sturm discovered a company in England that made a snow system called SnowFlex, which is an artificial, cushioned, snow-simulating surface, that provides skiers, snowboarders and tubers with the opportunity to experience the thrill of a ski slope, half pipe, or tube and toboggan run, year round.  "It's a water-misting, padded surface," explains Sturm, "with the slip and grip of real snow, but without the cold."  
Sturm liked the product, partly because it provided a better surface for beginners to learn, and at the same time, allowed world-class skiers and snowboarders an opportunity to practice year round. So he became an exclusive distributor of the product for the U.S., under the name All-Seasons Extreme, also, based in Lake Geneva.
Sturm's first project was the Liberty Mountain SnowFlex Centre on the campus of Liberty University in Lynchburg, Virginia. The mountain is open to both students and the public and provides year-round enjoyment for the area. His next project was a summer tubing facility in Winter Park Colorado. Both developments were a huge success and as a result, he has a number of follow up projects in the works, including a 14 story ski and snowboard slope near Disney World. Imagine skiing in 90 degree weather in a bathing suit!
Sturm's ultimate dream is to build a SnowFlex in the Lake Geneva area. He feels it can increase tourism for the area throughout the year and put Lake Geneva on the map for year-round snow sports.  He feels it would be ideal for a facility that has an infrastructure in place, such as an existing ski hill with parking, buildings and utilities. He has been in contact with several resorts and is hopeful that one will see the benefits and the positive impact it can have on them financially.
In the meantime, Sturm divides his time between his Special Effects and SnowFlex and in his free time produces music videos and is even building a jet powered cheese wedge.  It has two speeds: Rare and Well Done. Seriously! 
Dieter Sturm is a one-of-a-kind innovator, who loves his job and working with snow twelve months out of the year. "The cold," he says, "I can do without."
For more information about Sturm's Special Effects and SnowFlex, click here.
For a list of all the fun things happening in the Lake Geneva area, visit our Events Calendar.