In The News: Ice Castles
In The News: Ice Castles
Ice Castles Return to Lake Geneva
Geneva National is New Home for Endless Winter Fun in 2020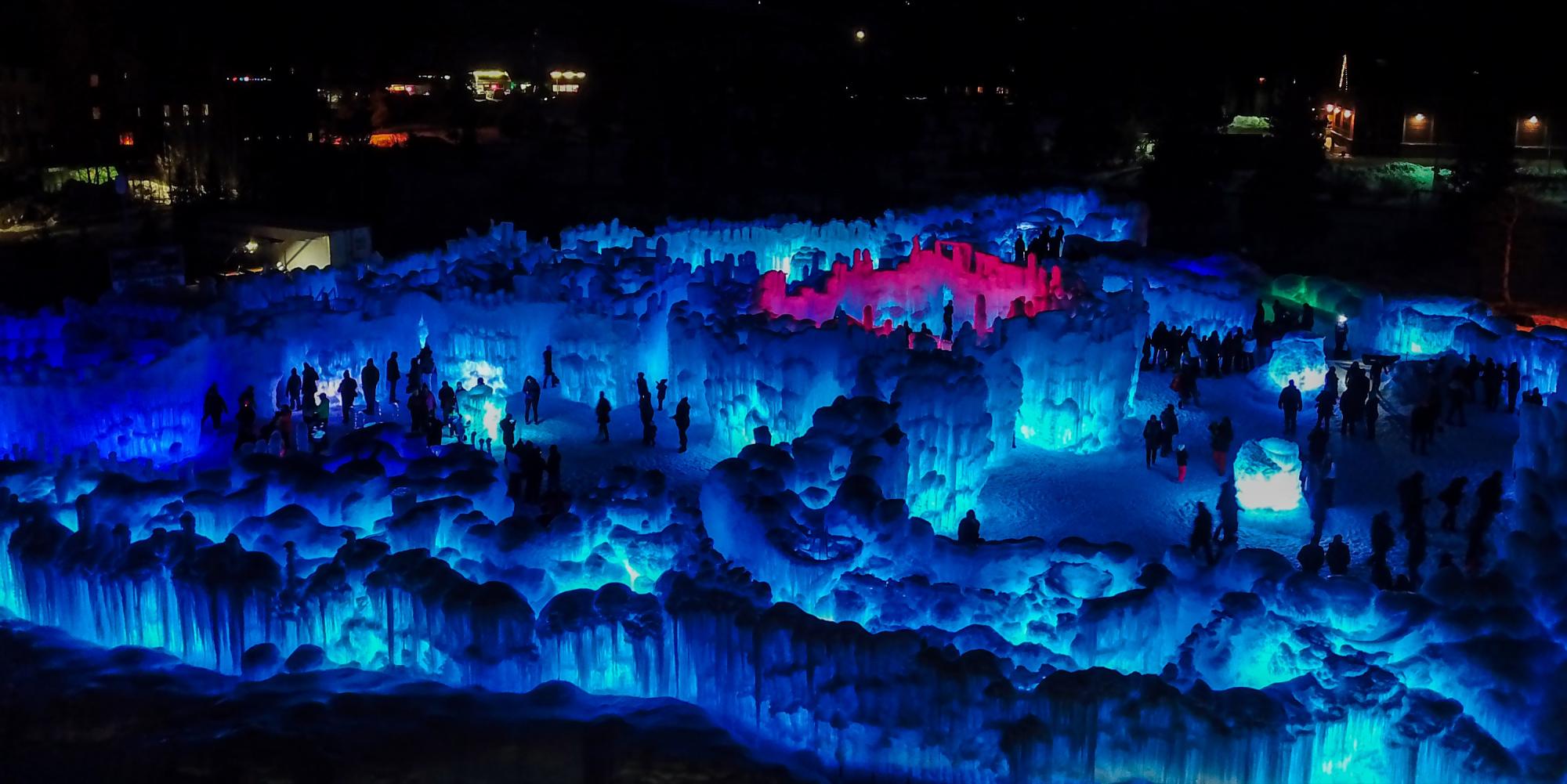 Lake Geneva was one of the most popular winter destinations last year thanks in part to the Ice Castles, the larger than life fairy tale experience that graced the shore of Geneva Lake. This year, the castles can be found just west of downtown at Geneva National Golf Course on the north shore of Lake Como.
The castle will be almost 4 times larger than last year, over an acre in size and visitors will find parking to be easy and convenient. There will be an Ice Castle gift shop in the resort club house as well as a bar, hot cocoa and food stations. It will be the complete experience. 
Both Geneva National and The Ridge Hotel will offer Ice Castle overnight packages and there will be an ice throne and an ice bar at the Ridge Hotel. 
The opening date in Lake Geneva is Friday, January 31, 2020. There are five other Ice Castles locations in North America: Midway, Utah; Dillon, Colorado; Stillwater, Minnesota; Lincoln, New Hampshire; and Edmonton, Canada.  According to Melissa Smuzynski of Ice Castles, "The experience will provide different areas to explore. Some of the locations in previous years featured a chandelier room, with beautiful icicles dangling overhead; a maze that has a series of tunnels and slot canyons; and even a fountain room with a water feature synchronized to music." We're excited to see what's in store for us in Lake Geneva this year.
While you might think of an ice castle being made out of blocks of ice, these castles are much more intricate.  Each ice castle is built by hand and takes thousands of man-hours to create. The daily process consists of growing 5,000 to 12,000 icicles that are harvested by hand and individually sculpted into existing ice formations. The newly placed icicles are then drenched with water creating an astonishing and ever-changing variety of ice formations. LED lights are frozen inside the ice and twinkle to music adding a magical ambiance to the breathtaking interactive sculptures.
The Best of Lake Geneva had a chance to talk with Melissa Smuzynski of Ice Castles about this icy wonderland experience that's coming to our town.
Q: What type of background does a person need to build ice castles? 
A: An ideal candidate to build ice castles would have some type of construction experience and experience using power tools. However, the ability to work outside in the cold is probably the single most important requirement for the job. Aside from ice artisans and builders, Ice Castles also hires seasonal event staff. Requirements: must enjoy working outside in the cold and love making people smile.  
Q: How big is the Lake Geneva castle?
A: The Lake Geneva location is just under an acre in size and weighs more than 25 million pounds.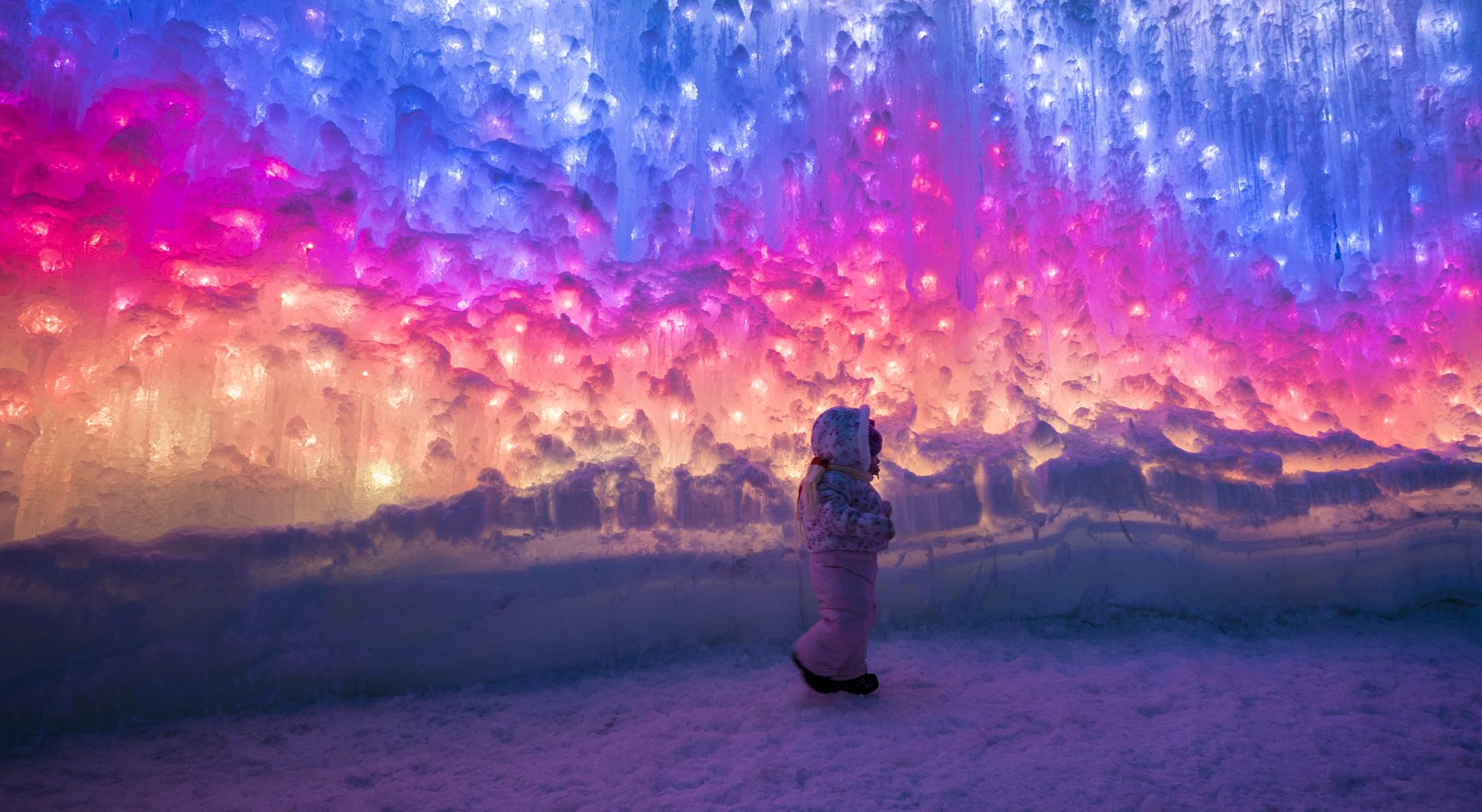 Q: How long does it take to complete an ice castle? 
A: It takes approximately two months to create the experience by a team of 20-40 artisans. The interesting thing is there is no metal or wooden framework underneath the structures. It's made entirely of ice.
Q: Are there interactive elements inside the castle or is it more of a scenic experience?
A: Ice Castles are both a scenic experience and an interactive one. With slides, frozen thrones, crawl spaces, slot canyons to squeeze through, as well as firepits, the Ice Castles are not only beautiful, but it is fun for the whole family.
Q: How does the Lake Geneva's castle differ from the other locations?
A: Our Ice Artisans create new designs and innovative features each season, and with the assistance of Mother Nature each location has its own uniqueness and they are different every year.
Q: How did you decide to build one in Lake Geneva?
A: Ice Castles brought their signature winter experience to Lake Geneva last year and wanted to come back again. Geneva National was chosen as its 2020 because of its expanding footprint and the need for more space. We believe the weather in Lake Geneva is ideal for building and sustaining the Ice Castles experience. Additionally, Lake Geneva's proximity to Chicago, Illinois; and Milwaukee and Madison, makes it the perfect weekend getaway for those looking to escape the city. Geneva National, where Ice Castles will be built, offers a stunning backdrop on Lake Como that will complement the beauty of the attraction. All of our Ice Castles are located next to a natural water source, so all of our water returns directly into the environment to be used again by wildlife, people and plants.
Q: What will be the hours operation and the cost?
A: Ice Castles hopes to open its Lake Geneva location in early January 2020 and remain open until early March.  (The opening day and length of operation are determined by the weather.) Tickets will go on sale online at www.icecastles.com  7-10 days prior to Ice Castles opening.
Hours:  Monday, closed, Tuesday - Thursday, 4:00 p.m. - 10:00 p.m., Friday - Sunday, noon - 11:00 p.m.
​Prices coming soon.
Q: Does your ticket enable you to reserve a time to avoid waiting in lines?
A: Yes. Tickets purchased online in advance are for a specific time slot. However, all guests must go through a short line where their e-ticket is scanned. For tickets, visit: www.icecastles.com/lake-geneva
Q: How long does it take to go through the castle?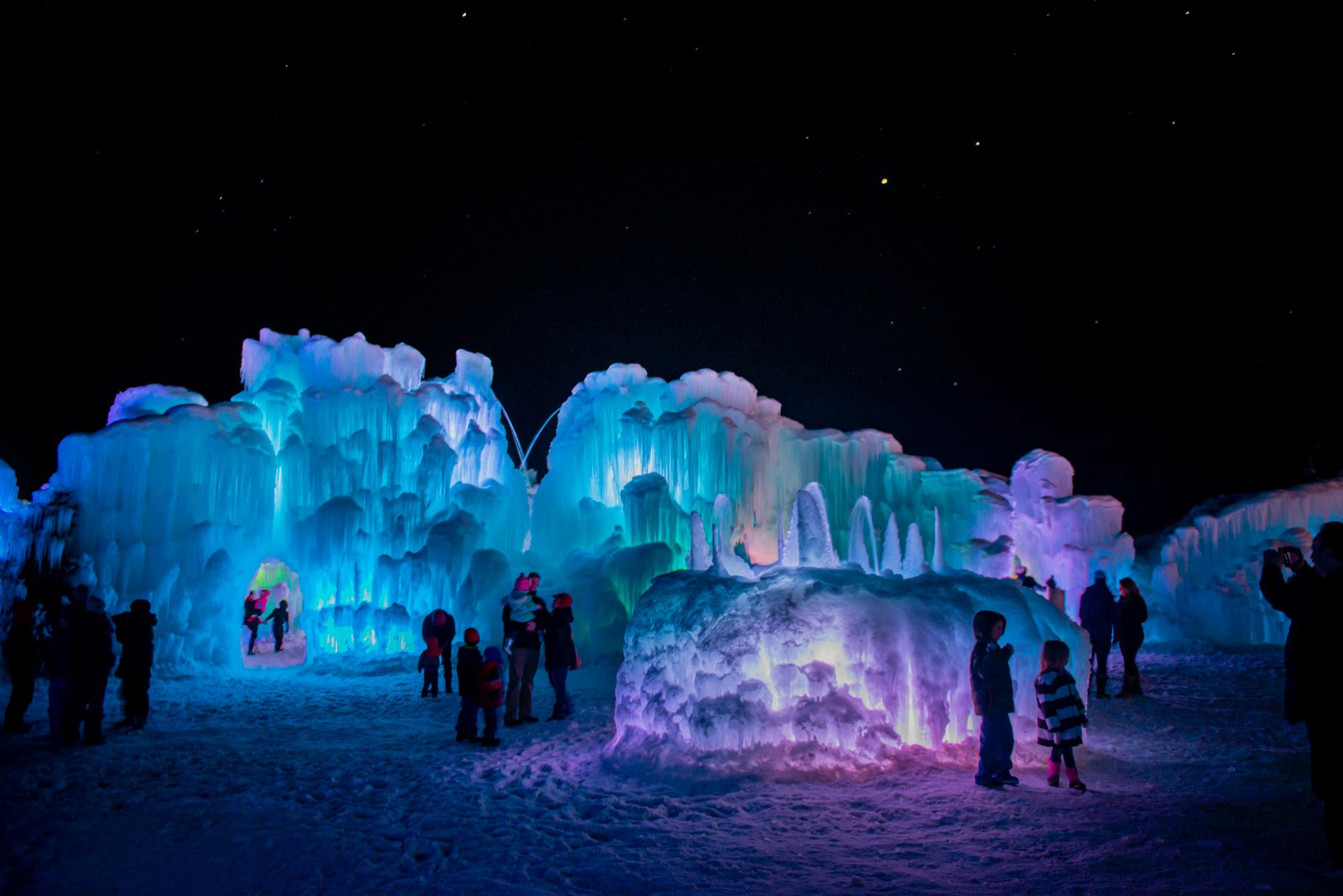 A: The length of time spent in the Ice Castle will vary from guest to guest. An average time to plan on is anywhere from 30 minutes to an hour.
Q: Can you only go through once with your ticket?
A: Yes, each ticket is good for 1 (ONE) visit, however guests can spend as long as they would like at Ice Castles.
Q: Is it a different experience during the day vs at night?
A: If visiting Ice Castles during the day, you will get to see the deep glacial blues that only the natural light will bring out in the ice, as well as the details in the castle.  At night you get to see the LED lights that illuminate the castle. Although equally beautiful and fun, the two experiences are uniquely different.
Q: How did this whole idea come to life?
A: Brent Christensen of Alpine, Utah built an ice cave in his front yard for his six children in 2009. It attracted so many people he quickly realized that it should be an experience enjoyed by more. His breathtaking works of art have become a must-see winter attraction and social media sensation drawing millions of people from all over the world since its inception in 2011. 
Q: What do the kids think of their dad's business and do they help come up with ideas for the castles?
A: Many of Brent's children are now grown with kids of their own. His youngest daughter is now a teenager. Although just a young child when Brent first came up with the concept for Ice Castles, his youngest daughter was actually the inspiration behind the company name. When Brent created the first ice structure in the front yard of the family's Utah home, his daughter, who was 5-years-old at the time exclaimed "It looks like an ice castle!"  Now a grandfather, Brent is probably the coolest grandpa on the planet. His grandchildren think he has superhero powers because he builds ice castles.
Tips for Visiting the Ice Castles:
Dress warm and wear boots that cover your ankles (or higher.) It will help you better navigate through the snow, that can be as deep as 6-8 inches in parts of the castle.
For little ones, you can bring a sled to pull them along.
For a detailed list of everything happening in the Lake Geneva area today, CLICK HERE.
Categories:
What to DoWinter SportsParks, Playgrounds and Hiking TrailsPlaygroundsSeasonal/Holiday EventsIndoor/Outdoor Winter FunWinterfestValentine's DayWinter Fun In the SnowChristmas EventsNew Years EventsDrop In Winter Break FunKid Friendly HappeningsFun on the Lakes