In The News: 2015 US Snow Sculpting Competition
In The News: 2015 US Snow Sculpting Competition
Nation's Top Sculptors Compete in Lake Geneva
Winner to Advance to International Competition
By Holly Murphy, Age 13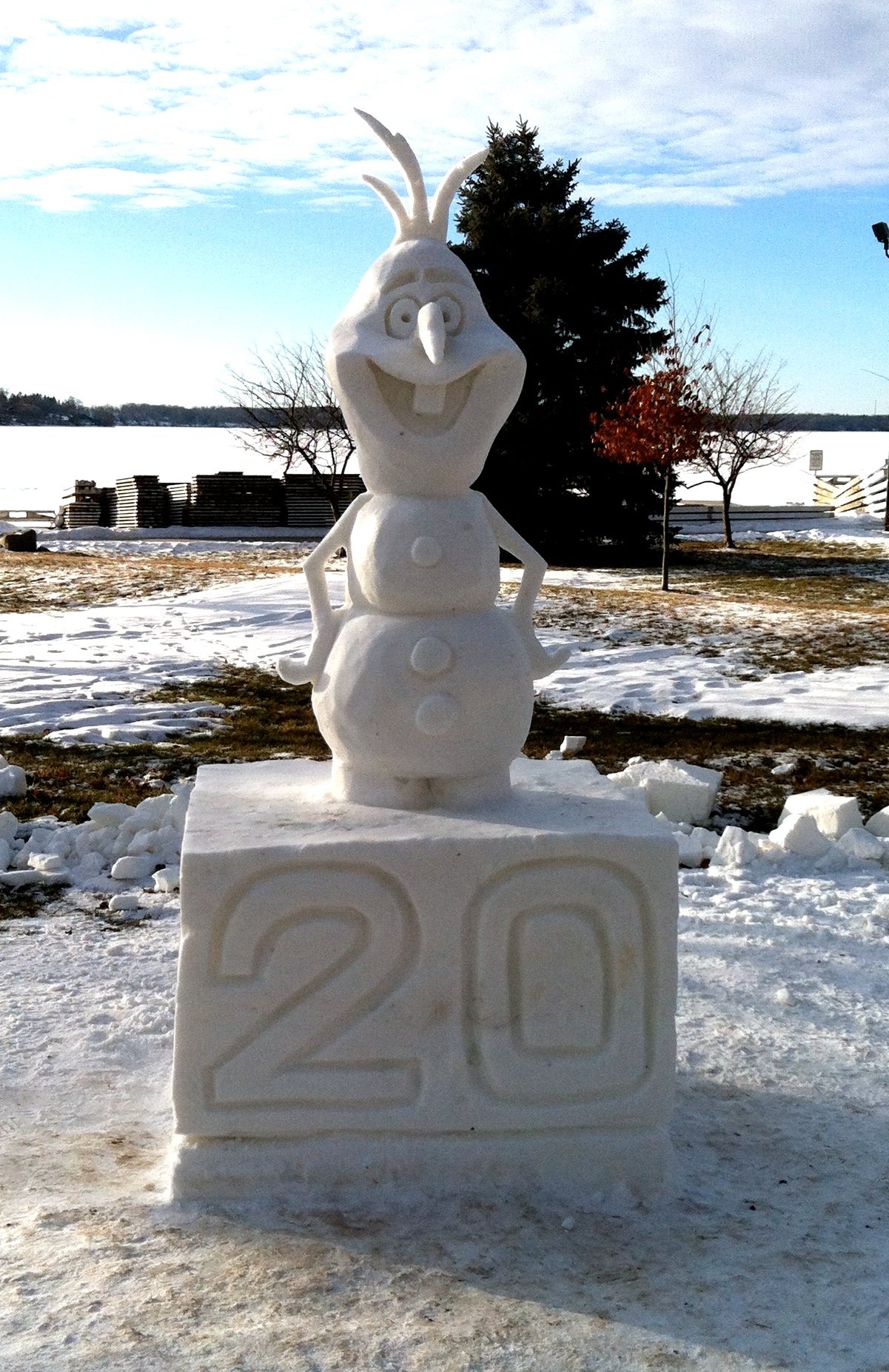 Did you ever think you'd see a 9 foot tall Praying Mantis, a Salmon Tornado and Olof in downtown Lake Geneva?  Stop by The Riviera, along the shores of the frozen Geneva Lake, and see for yourself.  The US Snow Sculpting Competition is underway and brings 15 highly skilled teams from all over the country, coming as far as Vermont and Alaska, to sculpt larger-than-life creations.
I was very lucky to have the chance to talk with a few sculptors to gain a better understanding of this interesting art form. One of the teams that I found to have the perfect background for this competition is a team from Iowa, who are made up of a retired blacksmith, sculptor and wood carver. They are taking on one of their most difficult projects, which is a sculpture of The Fall of Icarus. They explained that in mythology, Icarus didn't listen to his father and flew too close to the sun. When his wings melted, he fell from the sky. Their sculpture will be their interpretation of this myth and is uniquely called "Father knows Best." 
A team that is making their first appearance in this competition is from Minnesota, and call themselves "The MinneSNOWtons." Jared Trost is a member of the team and has been sculpting for about 12 years. They are creating a sculpture of a honey comb with bees, and it's called "To Bee or Not to Bee." It's an amazing sculpture, so BEE sure to check it out.
Another wonder in the making is a sculpture of a giant praying mantis called Mantis Magic. Zach, from Nebraska, is a member of that team and said they chose the design because the team captain studied bugs for years and thought it would be an interesting challenge to take on. The sculpture is eerily lifelike, although it's 9 feet tall, and is sure to be a crowd pleaser.  It is also their first time in this Lake Geneva competition and they are happy to be here and enjoying themselves.
One of the more lively bunch of sculptors came all the way from Alaska. Their team name is AKAwesome, and they are building the "Salmanado".  This unique idea came to him when he was watching Sharknado on TV and it suddenly hit him that it would be great to sculpt a tornado with Salmon in it, thus, the "Salmonado." The rest of the team was instantly on board, too. They mentioned that they have 20 hours of daylight at times in Alaska, so I guess that gives them plenty of time to practice!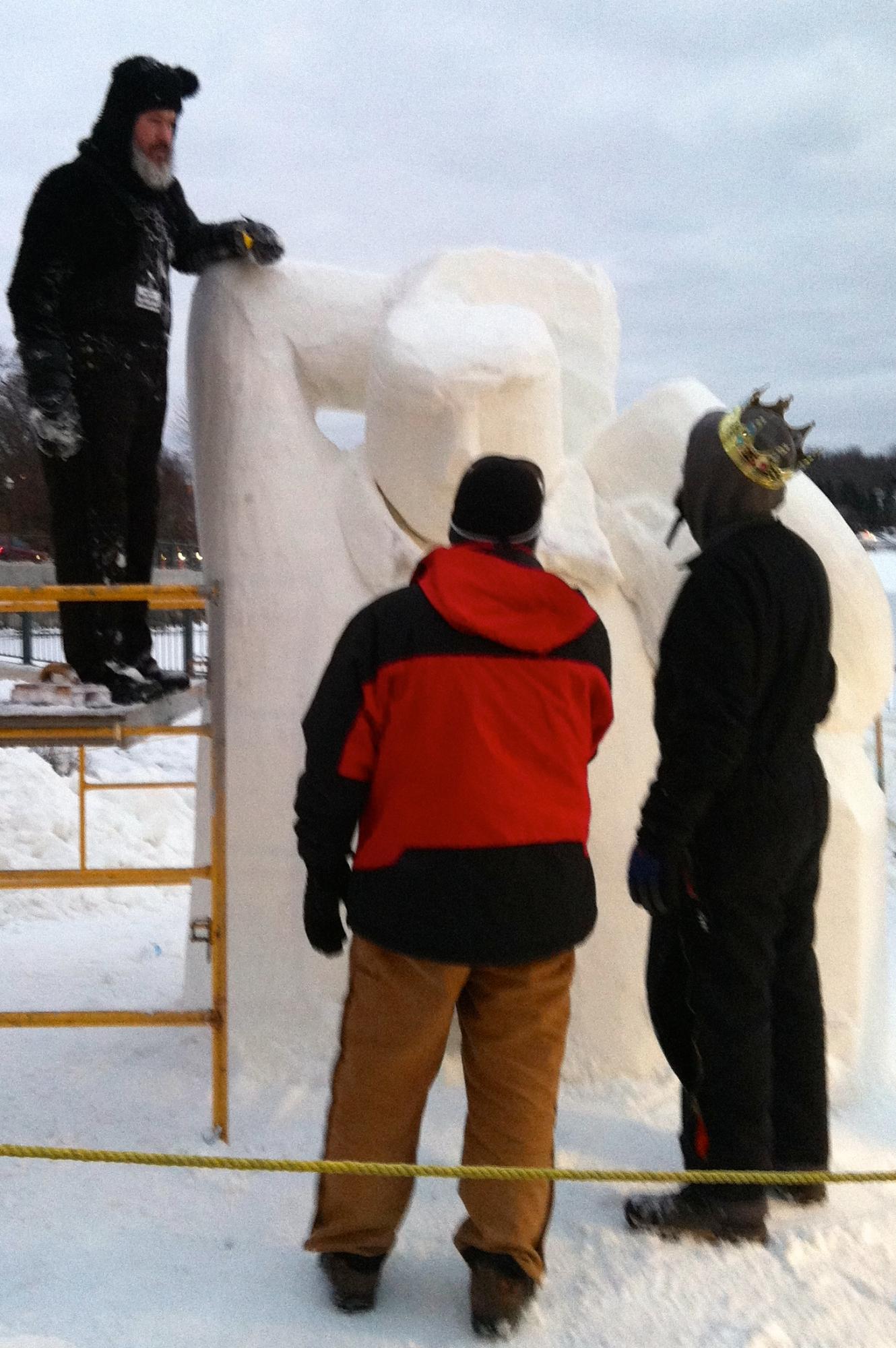 The last team I had the chance to talk with was The Band of Misfit Boys from Rockford, Illinois. Their team was here last year and created the ostrich with his head in a hole, titled, "Ralph, you have the wrong address again," which was one of my favorites. This year they are taking on a more difficult task of creating the invisible man unwrapping his face to reveal that he's invisible. The hardest part is making the sculpture hollow inside but they mentioned that the temperature being in the 20's will be perfect for holding the snow together.  Their team is easy to spot because you just have to look for a large man in a bear suit, known as "Man Bear." When asked why he wears the suit, he said "Because it's warm." The other members of their team include Prince S., who wears a gold crown and Yukon Cornelius IV. They are a fun and quirky team and if there was a reality TV show about snow sculpting, they would be the stars!
With just a day and a half left to complete their projects, many of the artists are planning to work through the night.  The U.S. Snow Sculpting competition will continue through Saturday, January 31st at 11am at the Riviera in downtown Lake Geneva. The sculptures will be judged based on Creativity (50%), Mastery of concept (25%), and the message they bring across (25%.) The winning team will be given a travel voucher to attend an international snow sculpting event in addition to bragging rights. Voting for the Peoples Choice award is on Saturday from 11-2 and the winner will be announced at 3:30.
Viewing will continue on Sunday and as long as the weather will cooperate. In addition to the sculptures in the competition, there are a number of other sculptures scattered around town that were commissioned by the city.  You'll find Olaf from the movie Frozen, on the south side of Main Street (Hwy 50), on the west end of town.  CLICK HERE for more information on this event. For a detailed list of everyting happening in the Lake Geneva area, today, CLICK HERE.