In The New: 2019 US National Snow Sculpting Competition
In The New: 2019 US National Snow Sculpting Competition
US National Snow Sculpting Competition Returns to Lake Geneva
Sub Zero Temperatures Make Better Sculptures
By: Holly Murphy, age 17
The US National Snow Sculpting Competition kicks off in Lake Geneva this week with 15 of the country's top teams representing Alaska, Colorado, Illinois, Iowa, Maine, Michigan, Minnesota, New Hampshire, New York, and Vermont all competing for a birth at the World Championship this year. The competitors must have won a state championship to qualify for this event.
With temperatures hovering around -26 degrees (-40 degrees with the wind chill,) it's among the coldest in the events history. While you might think that the cold temperatures would be a hinderance to the artists, it's actually the opposite. Team Colorado 1 explains "The colder air temperature allows us to create more intricate elements. The snow is lighter than in warmer temperatures and with physics, the snow is able to support more weight and becomes more pliable, allowing us to bend the snow into more shapes." 
The heavy snowfall on Monday prevented the city from building all the snow blocks in time, which caused a one-day delay in the sculpting start date. The event will still conclude on Saturday at 11am, as planned, but since the snow has amazing sculpting consistency, the artists believe that not only will they be able to complete their projects in time, but they may even be able to go beyond their original plans to create something even better.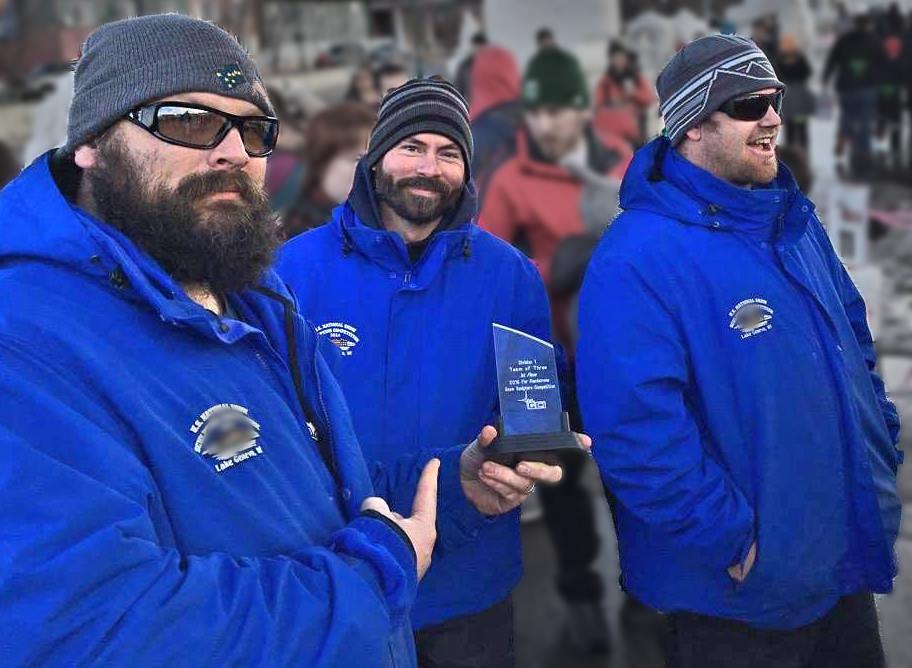 One of the veterans of this event, Team Alaska, returns for the 6th time. While they feel they are prepared for the frigid temperatures, they said that "even Alaska calls this cold!" They said that it only reaches temperatures this low in Alaska about three days each year. They will be creating a sculpture called "Your Guardian Angel" which represents a protective spirit watching over you and your life. 
Many of the sculptors have artistic backgrounds from carpentry and metal working to clay sculpting and industrial design. But Team Maine has a background that is the polar opposite to snow sculpting. (pun intended!) This all-female-team are competitive sand sculptors who build beautiful sculptures on the beach. Amanda Bolduc lives in Maine but spends her winters in Florida and left the 80-degree temperatures behind to come to Lake Geneva to work with snow. They will be creating "Prevailing Wings" which symbolizes the fight between good and evil, right and wrong and the struggle pulling
ourselves in two directions.
While artistic backgrounds can be helpful in snow sculpting, Team Illinois 2 which is co-sponsored by Geneva National Golf Course, has a former PGA golfer on their team. Kim McCombs from Wilmette, Illinois, recently retired from his golf career and has picked up a shovel to help his team create a sculpture of Cleophus, a mythological creature. 
For the past 24 years, Don Berg, an International snow sculpting champion, has been the director of this competition in Lake Geneva.  He said being a snow sculptor helps "keep the child inside alive," and adds  "We've taken the snowman and turned it into a real-life experience for the public."
The U.S Snow Sculpting competition will continue through Saturday, February 1st at the Riviera in downtown Lake Geneva, with voting for the People's Choice Award from11-2 on Saturday. The weather is expected to swing almost 80 degrees from -40 on Wednesday (with wind chill) to +40 degrees on Saturday afternoon. It'll be a perfect day to view all the finished sculptures!
Viewing will continue on Sunda
y, February 2nd and as long as the weather will cooperate. In addition to the sculptures, be sure to enjoy the Chocolate Crawl on Friday, February 1st, Polar Bar at Harbor Shores on Saturday and Sunday, February 2nd and 3rd, Helicopter Rides on Saturday and Sunday, February 2nd and 3rd,  and more.
New this year is the magical Ice Castles on the Riviera Beach. This fairy-tale like experience is something you won't want to miss. The castle is just under an acre and includes slides, frozen thrones, crawl spaces, and slot canyons to squeeze through, Ice Castles is not only beautiful, it is fun for the whole family.  Also this weekend, the Day in the Bay in Williams Bay and Grand Geneva's Winter Carnival on Saturday, February 2nd.
For the full story on the Ice Castles in Lake Geneva, CLICK HERE.
For a list of fun things happening in Lake Geneva, CLICK HERE.