Every year, Yerkes Observatory scientists and educators offer a variety of summer camps revolving around STEM topics (Science, Technology, Engineering, and Math). Camps are available for 3rd-4th grades, 5th and 6th grades and 6th through 8th grades.
The 2018 Summer Camps feature a telescope Makerspace for students entering third and fourth grades. Students will assemble their telescope and take it home at the end of the week.
An Underdome Drone challenge awaits incoming fifth and sixth graders who will build and operate a mission spacecraft.
Tech camp takes Drones and hacking to the next level for students entering grades six through eight. Aerial stunts, flying races and more await. An evening Star Party for your camper and his or her family (held one night during the week of your child's camp, weather permitting) is included in your camp registration. The Star Party will be open exclusively to campers and their families and will include tours of the building, engaging astronomy activities and opportunities to observe the night sky through one of our many telescopes. 
This year we will offer early registration as follows: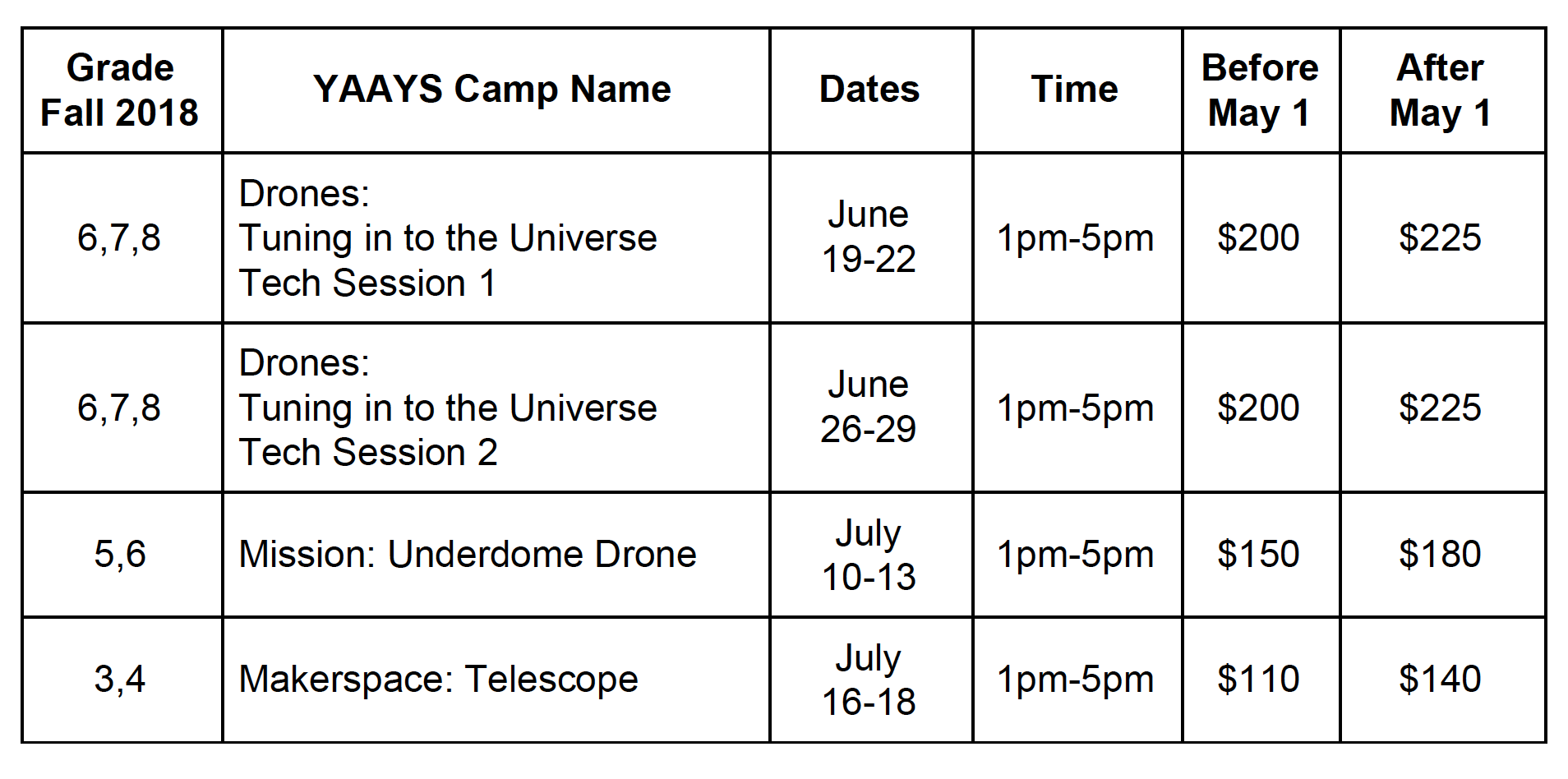 Each camp offers students the opportunity to collaborate with scientists, teachers and students pursuing a career in a STEM field. University of Chicago interns, Mcquown Scholars, IDATA participants and Yerkes staff will work in tandem to provide an amazing opportunity to create, explore and experiment with emerging technologies. Online registration is available at www.yerkesoutreach.org You may also pay camp fees via credit card by calling Brittnay at the Yerkes main office at 262 245- 5555 or by check made out to the University of Chicago and mailed to Yerkes Observatory, 373 W Geneva Street, Williams Bay, WI 53191 Attention: Brittnay Struble.