Stefana's at the French Country Inn
Stefana's is a new Italian steakhouse located on the south shores of Lake Como in the French Country Inn. This casual, yet elegant dining experience, offers everything from steak and seafood to pasta and burgers.
The dining room, with linen table cloths, overlooks the lake, and serves lunch and dinner seven days a week. Specialty items include their famous fried chicken, Shrimp Diablo, duck, lobster, french onion soup, to name a few. The diverse menu is affordably priced. It is opening on Thursday, November 23, 2017. (Thanksgiving)
The Two Brothers Lounge has a more relaxed bar menu featuring pub burgers, hot wings, and comfort food including stews, pork loin and ribeye steak sandwiches. They have an extensive drink menu and offer a signature Bloody Mary with a maple glazed donut. There will be live entertainment on select weekends. During the summer, the multi-tiered outdoor deck with a tiki bar, will host the weekly Bash on the Bayou on Sunday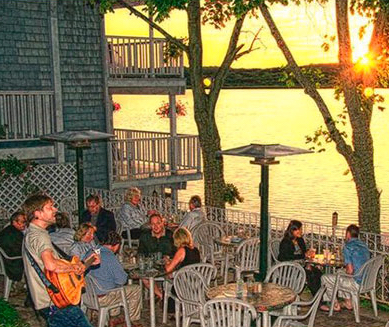 afternoons. Smoothies and Dippin' Dots will also be added to the menu for hot summer days.
The owners, Chuck and Dee DiNolfo, who've owned and operated the 55,000 square foot DiNolfo's Banquets in Chicago's south suburbs of Homer Glen, will offer exceptional wedding packages. They are excited to be in Lake Geneva and look forward to providing a fun and comfortable gathering place for both locals and visitors. They will have nightly specials including Ladies Night and Friday Fish Fry's and plan to begin serving Sunday Brunch in the near future.  Their opening day is on Thursday, November 23rd, for Thanksgiving dinner. Stay tuned for more details.
History of the French Country Inn:
Originally called the Lake Como Hotel, it opened its doors in 1921 as a family-friendly lake resort. The guesthouse and portions of the main house were built in Denmark in the 1880's and then transported to Chicago as the Danish Pavilion for the 1893 Columbian Exposition.  
The inn's secluded location made it a perfect place for infamous Chicago mobsters, including George "Bugs" Moran, Baby Face Nelson, and members of the John Dillinger gang to vacation at the hotel.  Jimmy Murray was a bootlegger who supplied the Como Hotel with liquor during the prohibition and he ran a speakeasy and gambling den called the Ratskellar, in the basement of the hotel
Until 1975, the Chicago and North Western Railway provided round trip transportation from Chicago to Lake Como, where an old railroad car was used as a depot just a block east of the hotel, in front of Mars Resort. Being connected to the city made Lake Como an even more desirable destination.
Since 1986, the hotel was completed renovated and renamed the French Country Inn. It still is rich in history and remains a popular vacation destination.
For other fun events happening in the area, click here.