In The News: 2017 U.S. Snow Sculpting Competition
In The News: 2017 U.S. Snow Sculpting Competition
Top Snow Sculptors Compete in Lake Geneva
Winner Advances to International Competition
By Holly Murphy, Age 15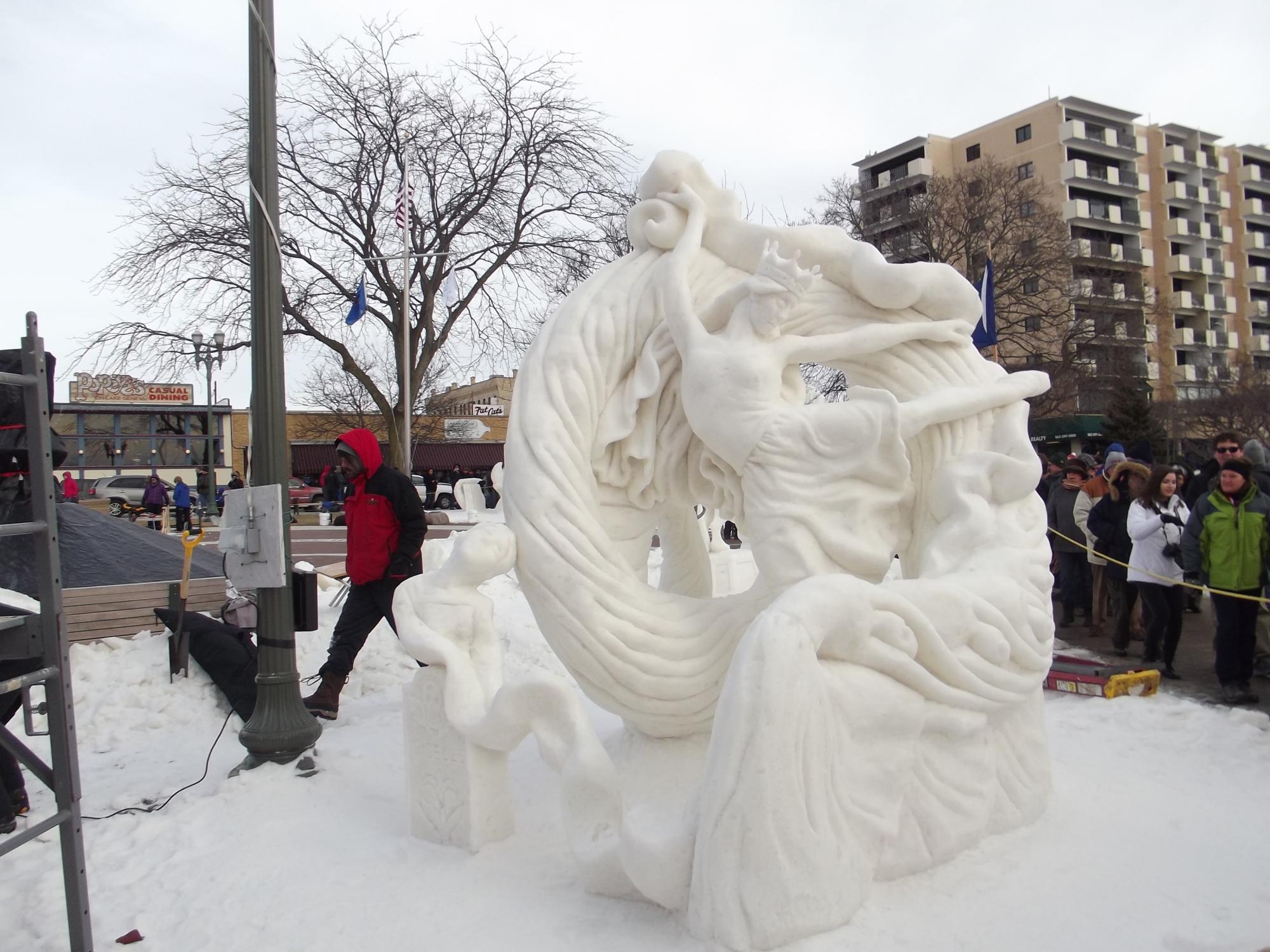 It's that time of year when top snow sculpting teams from around the country come together in Lake Geneva for the U.S. National Snow Sculpting Competition! This year, Alaska, Colorado, Idaho, Illinois, Iowa, Maine, Michigan, Minnesota, Nebraska, New Hampshire, New York, Vermont and Wisconsin will be represented. These teams were invited to this national event based on rankings at state qualifiers around the country.
Teams are made up of three members, who create nine foot sculptures made completely out of snow. They are each provided with a cylinder of packed snow and they can use hand tools to carve it, but nothing with motors.
At 11:00am on Saturday morning the work ends and the teams themselves will vote for their favorite, which will determine the winner. (Teams can't vote for themselves.) They are judged on creativity (50%), technique (30%) and the overall message (20%). The winning team will be given a voucher to attend an international competition. There will also be a People's Choice award chosen by the public on Saturday afternoon.
This year's competition brought back some familiar faces, as well as new ones. Team Wisconsin 1, known as the Polka Pickles and wearing matching felt Fedoras, are from Milwaukee and are the defending champions from last year. Two of the three team members, Gina Diliberti and Zachary Rueter created the sculpture, Door Master, which won the People's Choice award as well as the gold medal. The third member of their championship team, Dave Andrews, is competing this year for Wisconsin 2 and has won this event nine times! (He is pictured below with the ice crusted beard.)
Dave Andrew's team is creating Myrtha and the Dance of the Willis, which was an image in his daughter's ballet book that inspired him. Andrews told us that in addition to snow, he likes to sculpt chocolate, potatoes and sand. He has created chocolate sculptures for the Burlington Chocolate
Festival and often sculpts food creations for his wife's St. Patrick's Day Dinner. "My daughter and I created a bunch of little firemen out of potatoes and had them putting out a large flaming potato with green beer." said Andrews. "We used red peppers, Granny Smith apples, and potatoes in this centerpiece."
One of the most experienced teams is Wisconsin 3 from Milwaukee. Team Captain Tom Queoff, who was a former snow sculpting judge, has competed in over 220 events and even won a bronze medal at the 1998 Winter Olympics in Nagano, Japan. (Snow Sculpting was an event at the time.) This year, they will be building La Famiglia, which is a creation that includes a mother, father and child, wrapped in a flower. "It will really hit you emotionally." says Tom Queoff.
The rookies of this competition are Team New York. They have been sculpting snow for a little over a year but are confident that they compete against the experienced teams. They will be building a Maple Leaf, which seems fitting since they live near the border of Canada.
Heather Friedli-Ratzlaff, of Team Minnesota, who call themselves Team Dino Fight, finds that many of her ideas for her sculpting come from her dreams.  She explains, "When I wake up, I immediately try to recall what I saw in my dreams and then quickly look for a scratch pad."  Her teammate and Team Captain, Jaymie Stocks, who studied glass, ceramics and other arts at the University of Wisconsin River Falls, explained that their sculpture will have a bit of a Steam Punk vibe. "It's a turtle on a water lily, with gears and pipes running through his belly." 
One of the more charismatic teams comes all the way from Alaska. Known as AK Awesome, this team is making their fifth appearance in Lake Geneva and each of the three members, Waddity Pier, Jeffay Mellor and Mattay Lloyd, have all won the OM Award, which is an award given to an individual at the competition who possesses the true spirit of the competition. Team Captain Waddity Pier jokes that "It's similar to a Miss Congeniality award." Which is funny coming from this large man with a thick black Alaskan beard!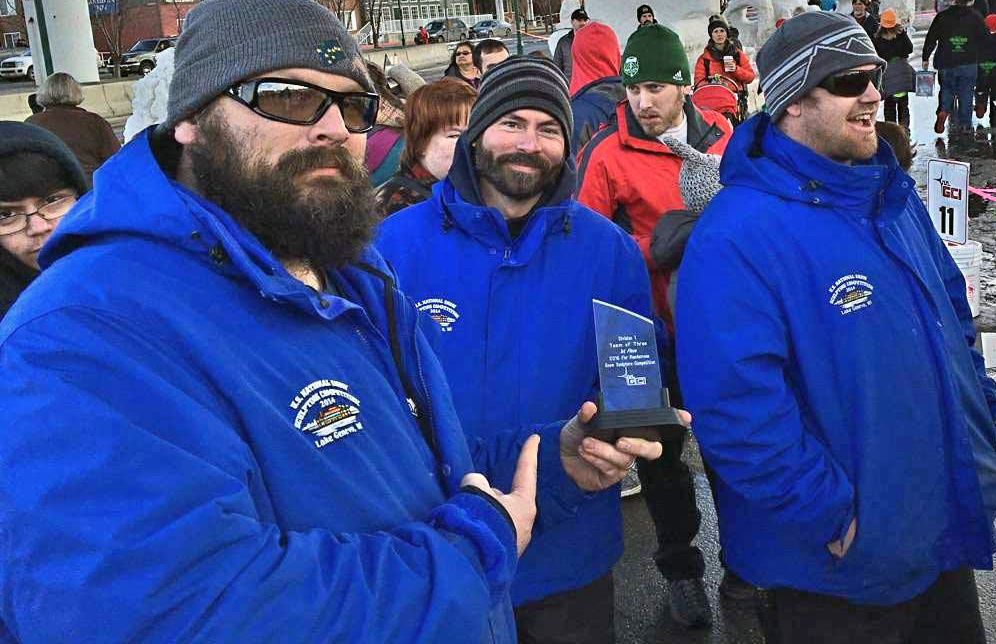 AK Awesome will be sculpting their most difficult piece yet, titled "Raven Steals the Sun." This will include two Alaskan style totem poles with a very detailed bird in the middle. "With the cold weather forecast for the rest of the week, the conditions should be perfect to complete this," explains Mellor. "The sun is not our friend when we work with snow."
While warm temperatures work against the snow, a few of the artists mentioned that they got their start in sculpting on the sandy beaches! Team Maine's Amanda Bolduc, Cathy Thompson and Paul Warren all come from a background in sand sculpting competitions. Warren recalls entertaining his kids on the beaches by sculpting alligators, turtles, cartoon characters and castles, of course! Thompson adds " While the tools and the mediums for sand sculpting are different, the concepts are the same." 
While many of these talented sculptors have day jobs that include teachers, chefs, canoe trip outfitter and therapists, some have jobs that closely fit the skills you use in sculpting. Team Nebraska, led by a blacksmith, Matt Seeley, incorporates his skill in metal making to be able to create custom sculpting tools. He has a big suitcase filled with just about everything you could need.  He makes tools for other teams, as well.
Seeley joked "There is one tool that often sculptors have to borrow from Popeye's (the restaurant across the street) and it's a potato peeler!" He explains "Every once in awhile you'll find yourself in a situation when a traditional tool just won't work."
Seely went on to explain that this year's sculpture is called "Monkey on the Moon", and in a way, he says, "It's like extending an olive branch." He explains that "Our country is so divided now and the America in the past was able to put an astronaut on the moon," but he wonders if we could do it today with all the negativity and division that's happening. While he doesn't want to bring politics into the competition, he hopes that his sculpture might inspire people to come together.
The U.S. Snow Sculpting competition began on Wednesday, February 1st and will conclude at 11am on Saturday, February 4, 2017.  Voting will begin at that time and the winners will be announced at 3pm on Saturday. Viewing will continue on Sunday, February 5th and as long as the weather will cooperate. In addition to the sculptures in the competition, there are a number of other sculptures scattered around town that were commissioned by the city.  You'll find one in front of the library and also one in front of the Tristan Crist Magic Theater/Bottle Shop and Lily Pots on Main Street.
UPDATE: The Winners of the 2017 U.S. National Snow Sculpting Championship are: 1st Place: Wisconsin 2 (Block 5) "Myrtha and the Dance of the Willis," 2nd Place: Wisconsin 1 (Block 2) "Vitality Versus the Void," 3rd Place AND People Choice: Maine (Block 3) "Hello, Can You Tell Me the Way to the Heart?" Congratulations to the winners and all the sculpting teams!
CLICK HERE
for more information and pictures of all the sculptures at the 2017 US National Snow Sculpting Competition.
For a detailed list of everything happening in the Lake Geneva area, today,
CLICK HERE.